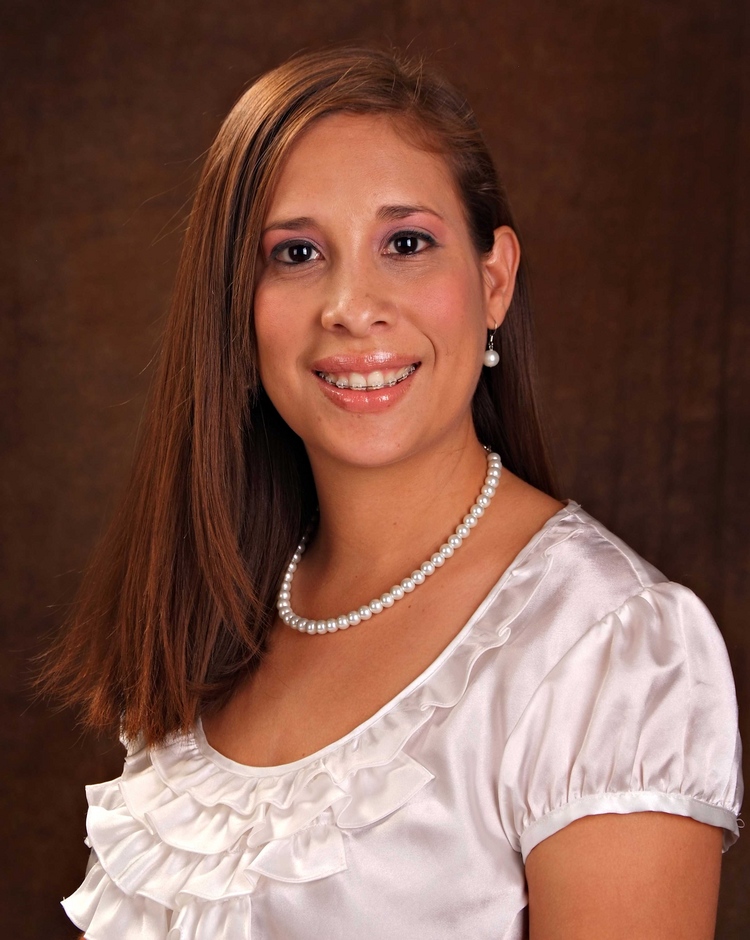 Sylvia Ramirez Flores, DDS
Dr. Sylvia Ramirez Flores is committed to providing gentle dental care to all ages. She received her Doctor of Dental Surgery from the University of Texas Health Science Center in San Antonio in 2004. She was certified by the Texas Dental Board to practice dentistry in July 2004. She practiced for a year in Austin, Texas. She has since returned to Mission, where she was born and raised, to continue her professional career. Flores Dental Care is starting their fifth year of providing dental care to all ages groups.
Dr. Flores continues to advance in her profession by participating in various continuing education courses. Dr. Flores annually participates in continuing education courses in all disciplines of dentistry, showing her commitment to growing as a dentist and in keeping up with new advancements in the dental profession.
Dr. Flores married Abiel Flores in 2004. They have three girls, Karymeh, Alyssah, and Myah. Dr. Flores and her husband are dedicated to their family and to raising their girls with a strong spiritual foundation. Dr. Flores is the daughter of the late Councilman Celestino Ramirez and his wife, Maria Elena Ramirez. Dr. Flores' parents were and are very committed to the city of Mission, and she hopes to be able to contribute through her profession.
Meet Our Team
Our team at Flores Dental Care is full of highly qualified professionals who do their work with a caring, friendly heart. We strive to stay up to date on the latest dental technology and techniques to ensure that patients of all ages are getting the best care possible. Our team is passionate about dentistry and providing excellent patient care. We invite you to contact our office today to learn more about us and to set up your next appointment with our experienced dentist in Mission, Texas. We look forward to caring for your smile!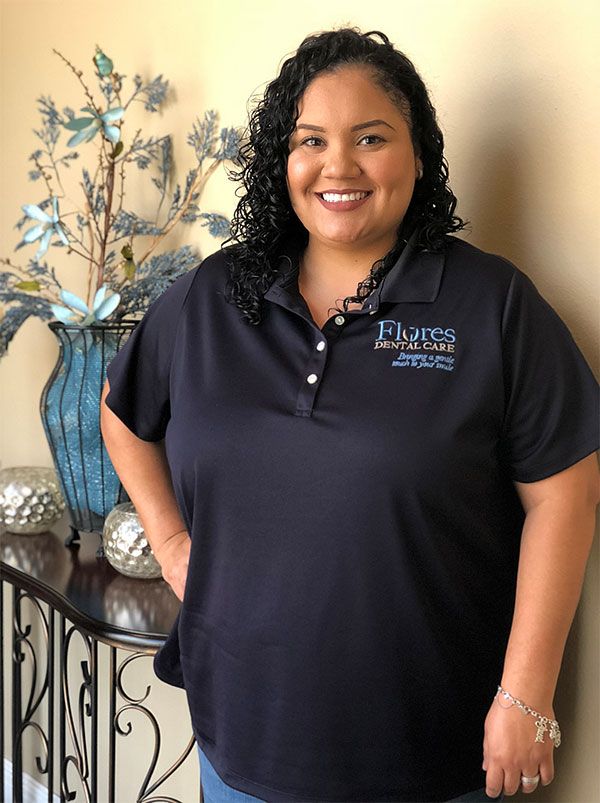 Claudia – Front Office Supervisor
Claudia has been part of the Flores Dental Care family since August of 2013. She is the front office supervisor for our team and works closely with Dr. Flores on all of the details of the practice. Claudia graduated from San Antonio College of Medical and Dental Assistants as a registered dental assistant in 2004. Claudia is devoted to honest communication with our valued clients. She patiently explains insurance benefits and treatment plans and answers any questions or concerns. When she is not working you can find her cheering on her football-obsessed husband and sons.
---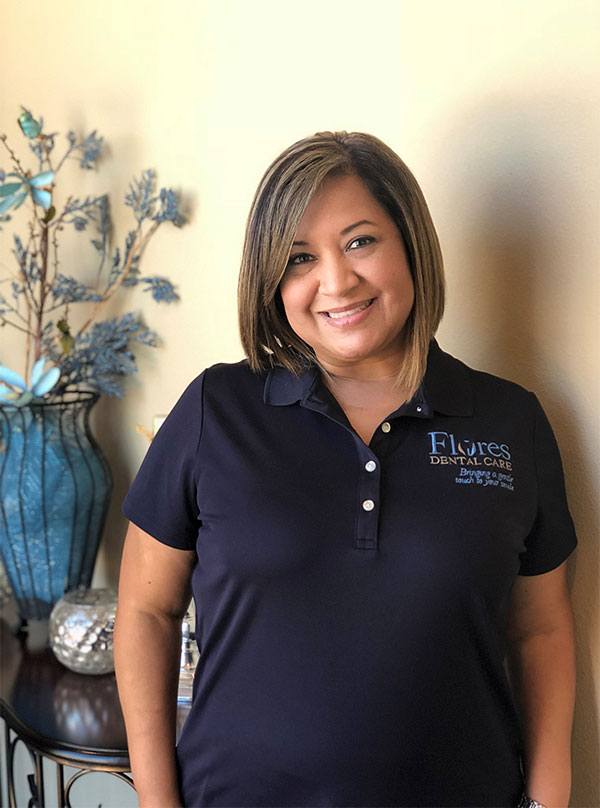 Jessica – Front Office Administrator
Jessica is one of the first people you will meet when you visit our office, and she helps our patients feel welcome and valued. Although she has only been with our team since 2016, Jessica is a Registered Dental Assistant and has been working in dentistry for more than 20 years. She enjoys being part of a team whose love for dentistry is reflected in the quality of care our patients receive.
---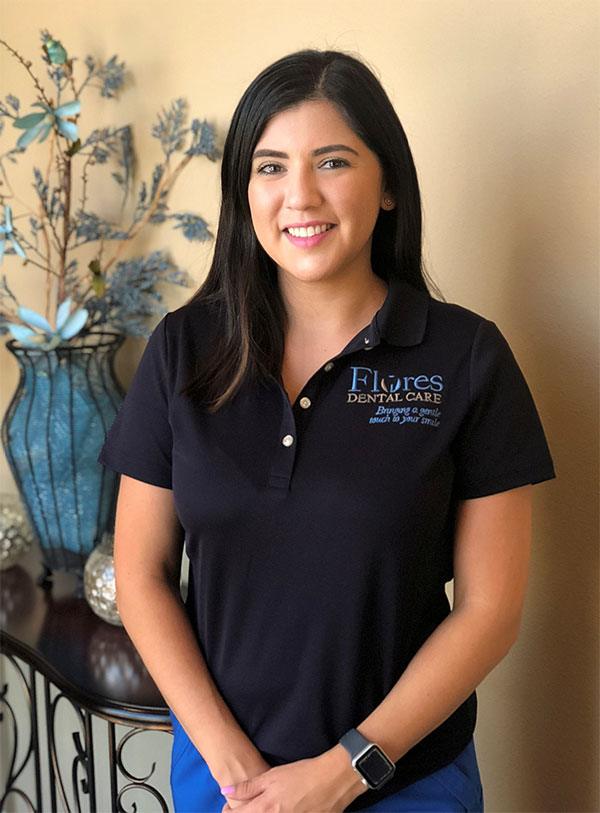 Yasmin – Dental Assistant
Yasmin received her certification as a registered dental assistant in 2011, and she has been a part of our team at Flores Dental Care since 2013. She enjoys the relationships she has been able to build with her co-workers and patients. Yasmin helps her patients feel comfortable and calm during their treatment by providing honest communication, letting her patients know every step of their treatment. When she is not helping her patients at the office, Yasmin enjoys hanging out with her friends and working out.
---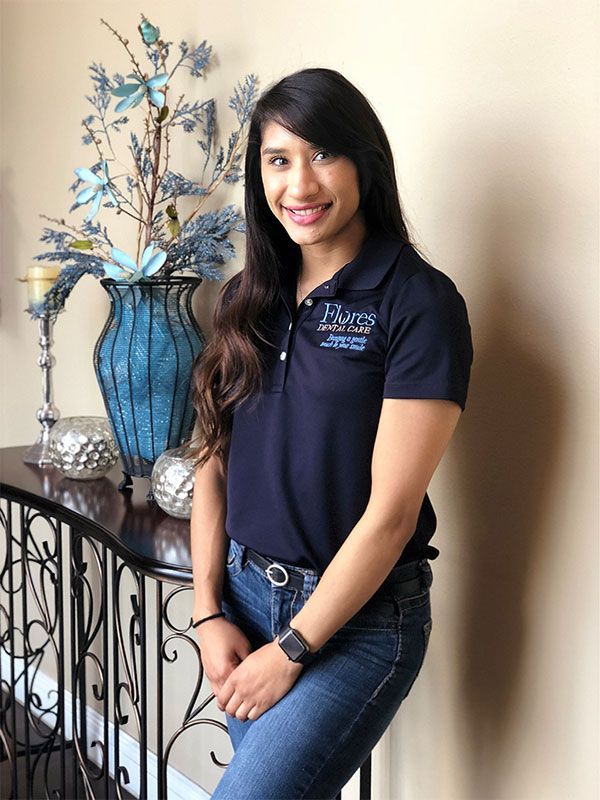 Samantha – Dental Assistant
Samantha joined the Flores Dental Care family in December of 2017. She graduated as the valedictorian of her class at South Texas Vocational College in 2013. Samantha enjoys caring for our patients and ensuring that they are comfortable and informed about any treatment they need. Samantha aspires to become a dental hygienist. She has a passion for learning and wants to continue to grow in the dental field. When Samantha is away from the office, she likes to spend time with her family and stays active competing in Jiu-Jitsu.
---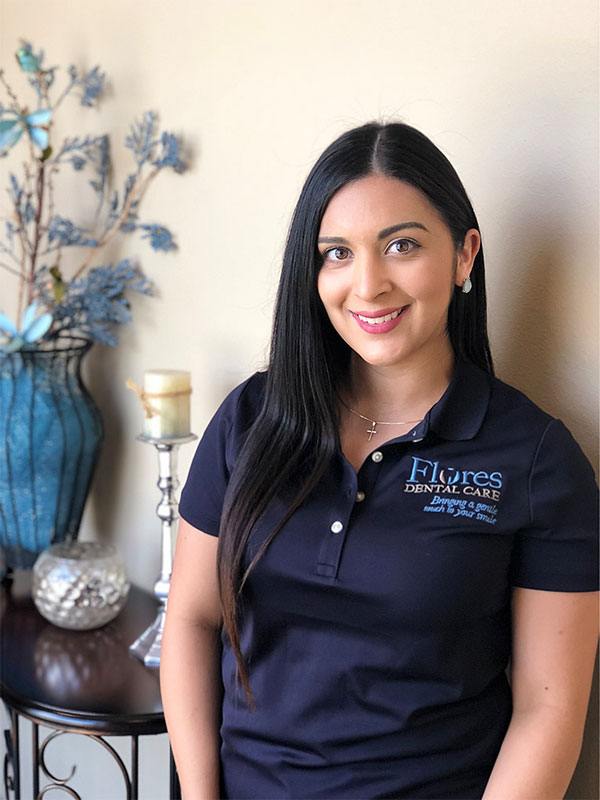 Jasmine – Dental Assistant
Jasmine has been part of Flores Dental Care since March of 2018. Although she has only been with us for a short time, she has 5 years of experience in the dental field. Jasmine graduated as a registered dental assistant in 2013 from South Texas Vocational College in McAllen. She passionately works to help patients feel comfortable throughout treatment so they can obtain a smile they are happy with. Jasmine is not only a dedicated dental assistant but also a devoted mother of two little girls, Aranza and Isabella. When she is not at work she enjoys spending time with her family.
---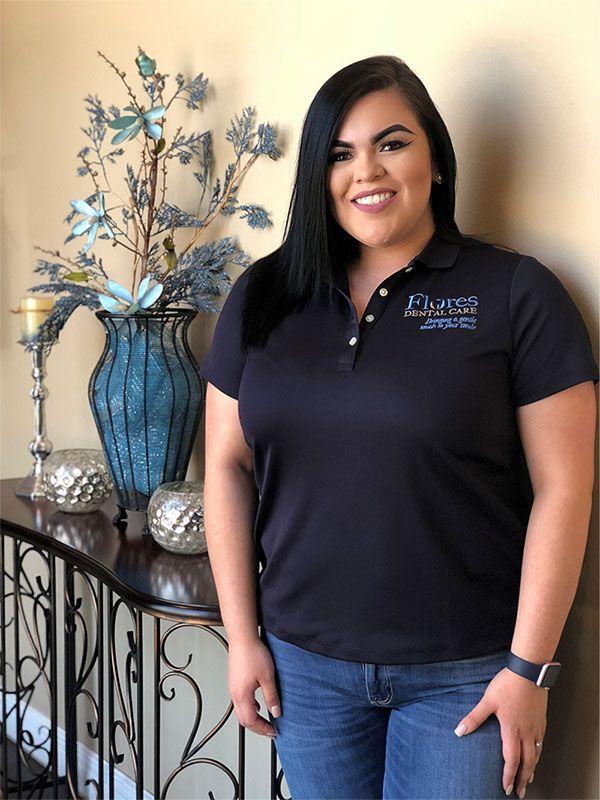 Victoria – Dental Assistant
Victoria is our newest member who joined the Flores Dental Care family in August of 2018. Victoria graduated as a registered dental assistant from South Texas Vocational College with a 4.0 GPA. Victoria is eager to expand her dental education and is enthusiastic about the knowledge she obtains daily from Dr. Flores. She utilizes this information to provide our patients with compassionate, quality dental care. One of Victoria's greatest hobbies is cosmetology. She loves to enhance the beauty of others. She also enjoys spending time with her family. She is a significant role model to her three younger sisters and leads by example.
---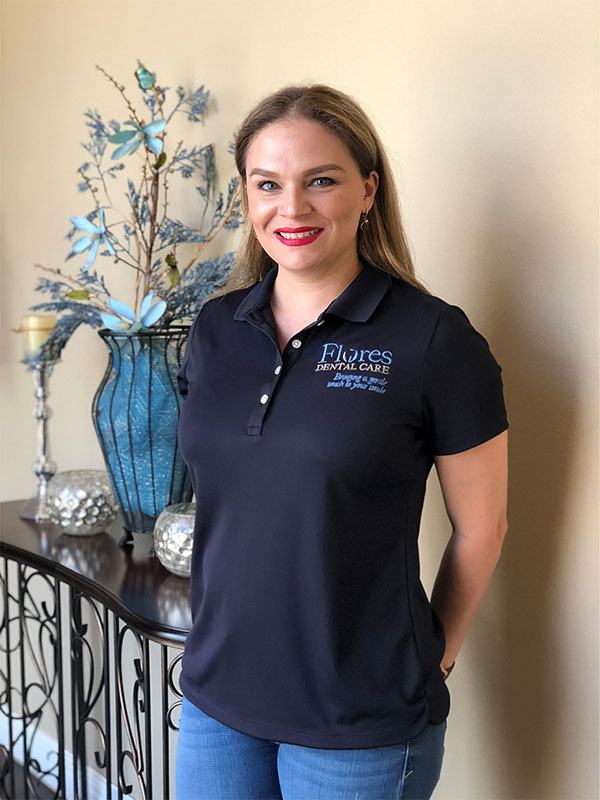 Marisol – Dental Hygienist
Marisol became a part of the Flores Dental Care family in January 2018. She graduated from Texas State Technical College in 2000 with an Associated Degree in Applied Science in Dental Hygiene. Marisol was awarded the Preventive Dentistry Award for her outstanding patient care. With her 18 years of experience as a Registered Dental Hygienist (RDH), she aims to provide both respect and compassion to patients of all ages. She is passionately committed to providing our patients with optimal dental care which includes instructions on proper dental hygiene techniques. Marisol takes tremendous satisfaction in providing gentle, thorough dental cleanings. Come and visit Marisol for your next cleaning!
---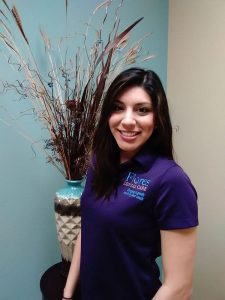 Keyla – Dental Hygienist
Keyla became a member of our team in 2014. She graduated top of her class from Texas State Technical College in 2012 with her Associates in Applied Science and Dental Hygiene. Keyla enjoys providing personalized care to each of our patients and being part of such a professional team. She always strives to be a force for good in our office, taking sincere interest in her patients and being a team builder. When she is not working in our office, Keyla enjoys working out.
---